I recently spent an extra 40 minutes with a brand-new coder who had made the mistake of copying something from the internet that he didn't understand, and another well-intentioned person had then helped him to get that nasty, terrible code to work, instead of starting over at the beginning and creating something simple and beautiful.
So I walked him through how I would have solved the challenge, but he was still discouraged and feeling like he just wasn't very good at programming. It reminded me of how bummed I would get as a beginner when something would go wrong.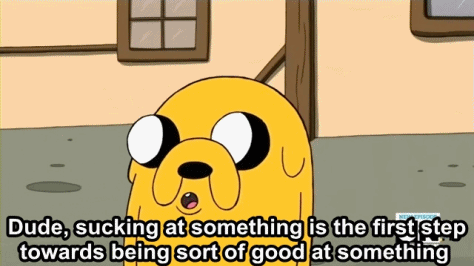 I think this AMAZING piece by Alicia Liu sums it up best:
There are two characteristics of coding that can make programmers feel like they're really struggling, when actually they could be doing just fine.

The first thing with programming is that you're almost guaranteed to have to learn new things as you're doing it… This can have the effect that one is constantly feeling behind, and that there is an ever-growing amount of stuff to learn.

The second characteristic that's somewhat unique to programming is that it consists of near constant failure.

– Overcoming Impostor Syndrome, Or How I Learned to Stop Worrying and Love Coding (emphasis mine)
A while back I wrote a post on counteracting stereotype threat. But if you're only going to read one more thing about this, go read Alicia Liu's article. (If only for the diagram below that I stole so you could see how good her article is.)
A senior engineer with 10+ years of experience once confessed to me that when he was starting out as a programmer he would get so frustrated that he broke keyboards (yes, plural). But he stuck with it. And hasn't broken a keyboard in years.
You got this.